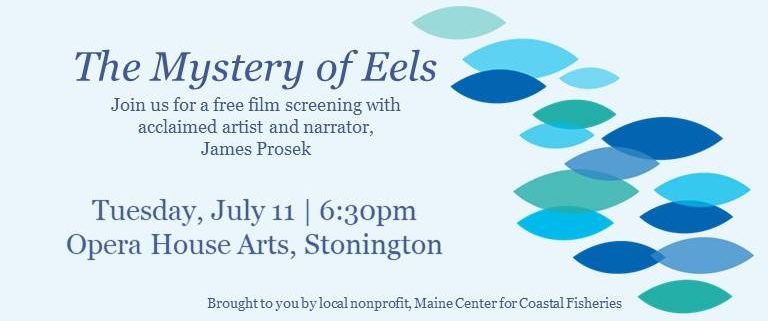 Local nonprofit, Maine Center for Coastal Fisheries, is pleased to bring the film, The Mystery of Eels, to Opera House Arts in Stonington, Maine. The film screening will take place on Tuesday, July 11, at 6:30 p.m. The event is open to the public and free of charge. The Mystery of Eels is narrated by writer, artist, and conservationist James Prosek, who will be in attendance at the screening. Prosek is a highly-decorated and internationally-renowned artist, known for his artwork focused on fresh and salt water species.
The Mystery of Eels takes you on a journey to unlock the secrets of eels and learn about the iconic role they've played in culture, economics, and ecosystems around the globe. From the cold rivers of Maine to the eel festivals of Japan, and the faraway lands of New Zealand; Prosek's journey teaches the history of this mysterious species and the threats this fish may face in the future.
The Mystery of Eels is based on Prosek's book, Eels: An Exploration, from New Zealand to the Sargasso, of the World's Most Amazing and Mysterious Fish. The book, published in 2010, was a New York Times Book Review Editor's Choice and the subject of a documentary for the PBS series, "Nature." A full biography and details of James Prosek's work can be found on his website, www.troutsite.com.
Maine Center for Coastal Fisheries' Executive Director, Robin Alden, is thrilled to bring this film to members of Eastern Maine's community. "It is wonderful to bring this fascinating film to the community," said Alden. "It's a glimpse into a mysterious creature that supports a $13.45 million Maine fishery, that means a lot to communities, and whose sustainability is a link between the freshwater and the ocean, from here all the way to the Sargasso Sea." Alden will kick off the evening's screening at 6:30 p.m. and lead a brief Q&A session, along with Prosek, at the film's conclusion.
Following the public screening, there will also be a private panel discussion and dinner at the home of John Ollman. Tickets are $50 and all proceeds benefit Maine Center for Coastal Fisheries' efforts to sustain fisheries and communities in Eastern Maine and beyond. Guests are invited to join James Prosek and eel experts, Dr. James McCleave, Dr. Gayle Zydlewski, and Dr. Joseph Zydlewski, for an in-depth discussion, as well as cocktails and refreshments. For information, or to purchase tickets, contact Chelsea Kondratowicz at ckondratowicz@coastalfisheries.org, or call (207) 367-2708.