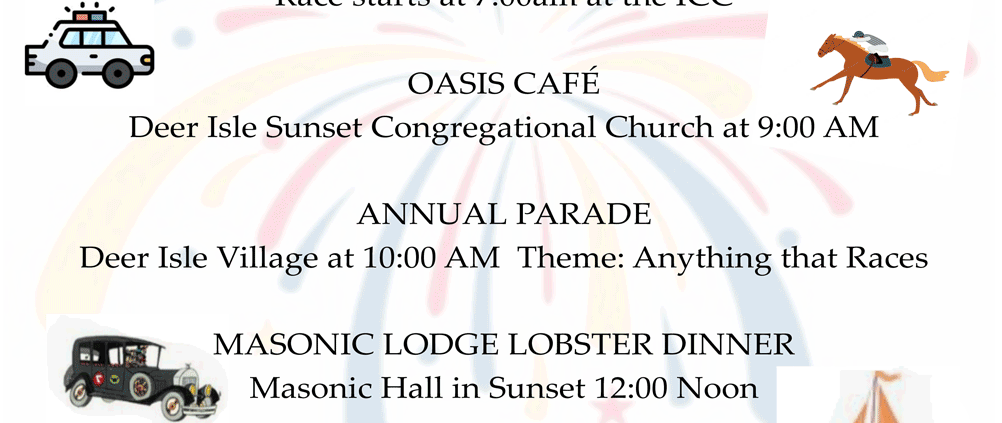 Deer Isle-Stonington Independence Day Celebration – Tuesday, July 4.
Schedule of events:
STONINGTON 6 – Run or walk to support the Island Community Center. Race starts at 7:00 AM at the ICC.
OASIS CAFE – Deer Isle Sunset Congregational Church at 9:00 AM.
ANNUAL PARADE – Deer Isle Village at 10:00 AM. Theme: Anything that Races.
MASONIC LODGE LOBSTER DINNER – Masonic Hall in Sunset at 12:00 NOON.
FOOD & ENTERTAINMENT – Stonington Fish Pier at 5:00 PM. Live Music by 3 Mile Line. Talent show at 6:30 PM – sign up at event.
FIREWORKS – Stonington Fish Pier & Harbor at 9:15 PM.
All events occur as scheduled, rain or shine. Except, in the case of inclement weather, the Fireworks will be re-scheduled to July 5 at 9:15 PM.
Questions: Call Suzy Shepard at 207-460-9461.
Sponsored by the Deer Isle-Stonington Chamber of Commerce with support of the Island Fourth of July Committee and the Towns of Deer Isle and Stonington.