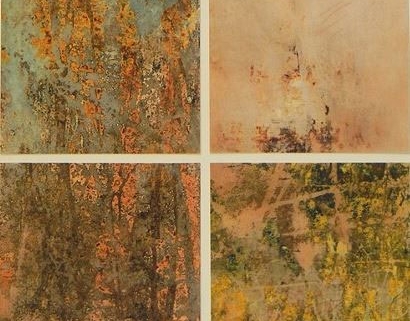 Portable Fresco with Barbara Sullivan: Monday June 3 – Tues. June 4, 9am to 4pm
Have you ever wondered about the process involved in the medium of fresco painting? Join artist Barbara Sullivan for a hands-on exploration of this age-old medium. During this two-day intensive workshop, students will develop an understanding and appreciation of true buon fresco (painting into freshly laid wet plaster) within both an art historical context, as well as in practical applications. Students will learn the many steps involved, such as how to prepare substrates, arriccio and intonaco layers of plaster, how to grind pigments, and knowing when the plaster is ready to accept paint! All these techniques will be put into practice as students design and execute their own portable fresco panels. Materials provided by instructor ($50. payable to instructor) 2 days… 9am – 4pm Limited to 5 participants. Fee: $350.
Instructor Barbara Sullivan teaches art foundations at the University of Maine at Farmington, She has taught Fresco Workshops at Colby, Bowdoin, U Maine, Pratt Institute in NY, and at The Aspen Institute, Aspen, CO and at Haystack her in Maine. She had shown widely in Maine and in group shows in New York, She had her first solo museum show at The University of Maine Museum in Bangor, ME in 2007. Barbara has received both The Adolph and Esther Gottlieb Foundation and The Pollock/Krasner Grant.
Image: Work by MaJo Keleshian