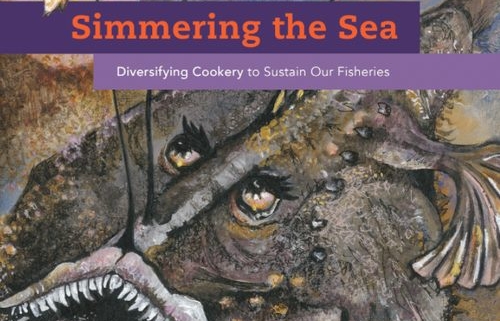 You've heard that variety is the spice of life, but did you know that eating a wide assortment of seafood can actually help sustain ocean ecosystems?
Join us for a book signing and talk by author Kate Masury, co-author of Simmering the Sea and Program Director at Eating with the Ecosystem. Kate will be sharing more about Eating with the Ecosystem and their mission of promoting a place-based approach to sustaining New England's Wild Seafood. "Simmering with the Sea" cookbook will be available for purchase and signing at the event.
Light refreshments will be provided.
ABOUT THE BOOK: Simmering the Sea is an underwater culinary adventure where you will meet (and learn how to prepare) forty underappreciated fish and shellfish that populate the Northeast Atlantic Ocean. Sample species as varied as the coastal slipper limpet to the deep-water Acadian redfish, while learning how each one contributes to a flourishing ecosystem in the sea. Produced through a partnership between the University of Rhode Island, the nonprofit Eating with the Ecosystem, and Johnson & Wales University College of Culinary Arts, this is a beautiful, one-of-a-kind cookbook that can serve as your manual for a more intimate and balanced relationship with the marine ecosystems off New England's shores.
Venue:
Maine Center for Coastal Fisheries, 13 Atlantic Ave, Stonington