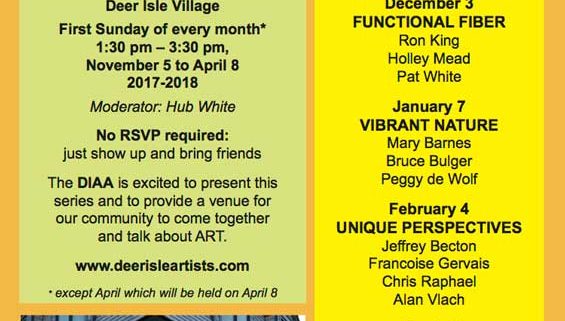 Barnes, Bulger, de Wolf Lead DIAA's ART matters 3 Discussion, VIBRANT NATURE, Jan. 7
The Deer Isle Artists Association presents its third ART matters 3 session, "VIBRANT NATURE," with artists Mary Barnes, Bruce Bulger and Peggy de Wolf at 1:30 p.m. on Sunday, Jan. 7, at the Deer Isle gallery.
The "VIBRANT NATURE" program begins at 1:30 pm. Artists will discuss their work with each other, then the audience will join the discussion. DIAA Board Member Hub White will serve as moderator. A reception follows with coffee, tea and homemade cake.
Founded in 1972, the Deer Isle Artists Association is a member-run nonprofit organization committed to creating and exhibiting art. Our more than 100 members include painters, sculptors, printmakers, jewelers, fiber artists, photographers, ceramicists and other artists.