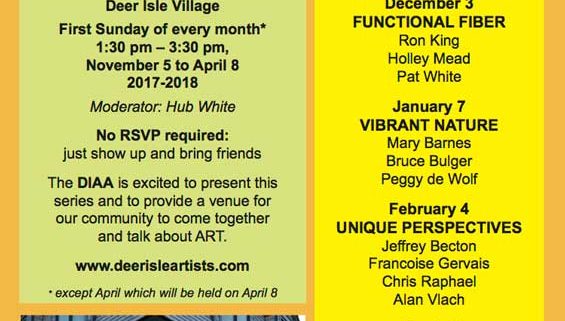 Join us on Sunday, December 3, 1:30–3:30 PM for DIAA's second 2017–2018 winter session of "ART matters 3", an opportunity for artists to share their work and talk about it with the public. The theme of this program is "FUNCTIONAL FIBER" and will feature local artists Ron King, Holley Mead and Pat White.
ABOUT THE ARTISTS
Weaver Ron King on his work: "My primary interest in textiles is in the design and production of functional fabrics; and my continuing fascination is rooted in the fundamental aspects of and the exploration of the structure of fabric, the interaction of fibers, and how colors, textures and patterns are created."
Holley Mead started making pictures in cloth in 1972. "I have continued making narrative appliqué quilts and wall pieces since then. Most of them are inspired by the landscape, people, pets and nature around me."
Pat White enjoys using color and exploring different sculptural and textural forms in felting wearable art.
After artists' presentations and discussions moderated by Hub White, a reception follows with coffee from 44 North Coffee, tea and cake.
Venue:
Deer Isle Artists Association
15 Main Street
Deer Isle, ME